If you've never heard of shirataki noodles, I have to warn you: your mind might be blown. These noodles are thin and translucent with a gelatinous texture, but don't let its looks throw you off. They're made from konjac yam, but mostly comprised of just water and a water-soluble fibre called glucomannan.
You can purchase them dry or wet, but you're most likely to find them in "wet" packages. When you open it, you will almost definitely be put off by the smell, but a quick rinse and/or par-boil can help with that. After that, you're ready to make some delicious, low-carb dishes! Each serving is very low in both calories and carbohydrates. In fact, many labels boast "zero calorie," which might mean each package contains up to ten or so altogether. Since they're sourced from yam, they're inherently gluten-free, vegan, paleo-friendly, and keto-friendly.
They make all different types of shirataki noodles, too. Fettuccine, angel hair pasta, rice… you name it. They're most often used in Asian-inspired dishes and cold noodle meals, but they make a fabulous starter ingredient for getting creative, and easily take on the taste of the other foods and sauces you serve them with. If you're missing noodles in your life, these recipes are the answer.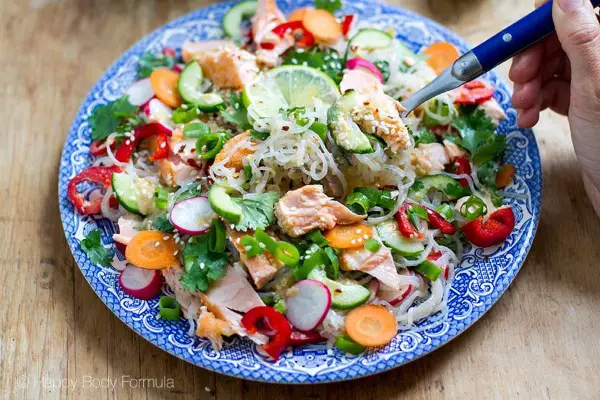 This recipe is a complete meal with fresh salmon and veggies, plus a citrus-infused sesame dressing. This is a great meal prep dish to put together for a no-heat-required office lunch. And trust us – you will want to make a big batch of this dressing to use for other dishes, too!